---
Why You Need a Mix of Push and Pull Marketing Strategy Malaysia for Your Business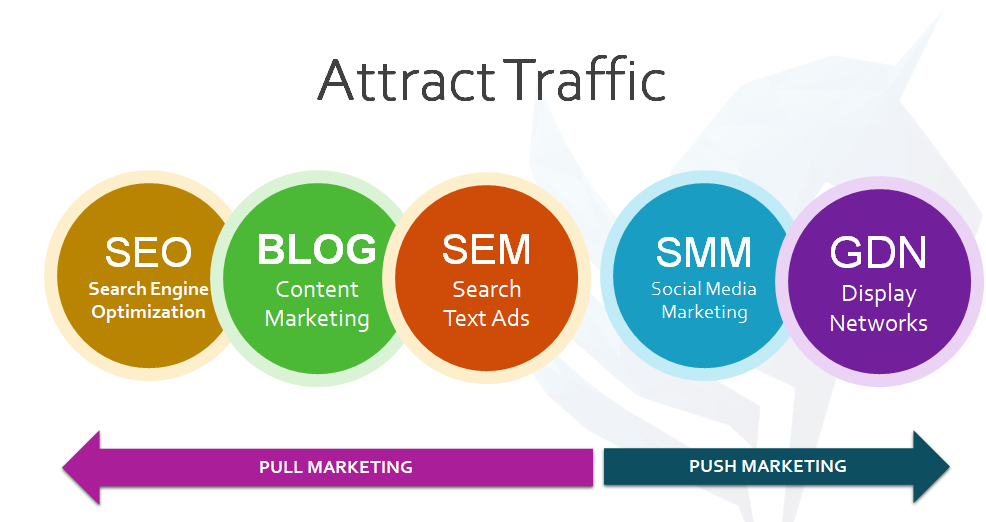 September 6, 2021
No Comments
1661
Running a business is not for the faint of heart. It is also not easy as it takes a lot of hard work, effort, and time to succeed. Yet, it is also not impossible. After all, marketing – among others – is fundamental to business. Surprisingly, many entrepreneurs failed miserably due to poor marketing strategies. With the current trend of e-commerce and online presence, a digital marketing strategy is indeed a must.
Undoubtedly, running your own business means you are bounded to a constrained budget, time and workforce to drive traffic and ultimately increase the conversion rate. Some gurus might suggest you choose between push and pull strategies in marketing.
Now, why choose one when you can have both?
Truth be told, push and pull marketing complement each other. Your business needs a harmonious mix of push and pull strategies for a truly comprehensive marketing strategy.
Marketing is both an art and science. You need to develop the right strategies to effectively get your message across and reach out to your customers. Thus, it would be best if you have a way to pull your customers to your brand and push them into buying your products.
Both push marketing and pull marketing are unique and serve different purposes. They can work separately as well as together. Here is what you should know about each.
What is Push Marketing Strategy?
Push marketing is a strategy focused on pushing products or brands to a specific audience.
You push promotions to get customers interested in your brand and respond by purchasing your product or service. Also known as outbound marketing or direct marketing, push strategy marketing is a form of general advertising. In simpler words, it refers to any kind of promotional strategy that pushes your message out to the world.
In push strategy, you are in charge of the timing, content and frequency of promotions. The goal is to bring your brand or products to your potential customers. By pushing your content and brand onto your target market, you are cultivating awareness. At the same time, you are also providing an immediate call to action for them to pursue.
When is The Best Time to Use Push Strategy?
Push marketing comes in various forms, and it is more deliberate and proactive as compared to pull marketing. It can also be somewhat intrusive and aggressive as you practically push your products or services right to your target audience. More often than not, this technique is preferred by businesses taking advantage of a short-time period or trying to generate sales quickly.
There are instances whereby it is best to use push strategy, such as:
When launching a new business or brand without a reputation
When releasing new products
During holidays or seasonal events
For sales and temporary promotional campaigns
To promote brand awareness and recognition
Examples of Push Strategy Marketing
Some of push strategy examples in digital marketing that you can apply in your business include:
Google Display Network (GDN)
Google Display Network (GDN) is a collection of more than 2 million websites, videos and apps where your Google Ads can appear. Display ads show up in areas that are specifically dedicated to paid ads. It also can be formatted in a variety of ways, such as banners and videos.
Social Media Marketing (SMM)
Social media marketing (SMM) uses social media platforms and websites to promote your products and services. Based on your target audience, you can plan display advertisements on specific social media platforms, such as Facebook, Instagram, and Twitter.
What is Pull Marketing Strategy?
Now, let's talk about pull marketing.
As opposed to a push marketing plan, pull marketing is a strategy that focused on drawing customers to your product.
Also known as inbound marketing – pull strategy marketing makes your products or services visible to prospects. Thus, when they have a need for your products or services, they search for an answer or a solution – which is your brand. Simply put, it involves naturally accruing traffic without pushing your products directly to the customers.
The reasoning of the pull strategy is to create high-value content that perfectly suits your target audience and ultimately letting them come to you. The goal is to develop customer loyalty by providing valuable marketing materials that showcase what they are looking for. As a matter of fact, some users actively seek the products, services, or information you offer. Hence, pull marketing is simply making it easier for them to find you.
When is The Best Time to Use Pull Marketing?
In the age of consumers educating themselves before purchasing products and services, pull marketing has become a vital strategy for saturated markets, such as the clothing industry. Pull strategy helps to promote your brand as unique and distinctive. Even though it generally takes a long time to drive results compared to push marketing, it ensures long-term customers and growth.
Pull marketing is often the primary business strategy for companies looking to:
Build a return customer base and improve customer loyalty
Promote brand recognition with customer engagement and visibility
Drive traffic to their site across organic, referral and social segments
Increase social media traffic and social media sharing
Ensure long-term business growth
Examples of Pull Strategy Marketing
The most prominent and effective forms of pull marketing include:
Search Engine Optimization (SEO)
Search Engine Optimization (SEO) is proven the most reliable marketing technique that delivers the highest return on investment (ROI). SEO is a pull marketing strategy that allows you to get your content, web pages, and more across millions of people searching for relevant keywords, phrases, and terms.
When your web pages and other content are optimized for those search keywords that your target audience is actively looking for, it will appear in front of them organically. It is a brilliant way to reach out to your target audience and customers without them feeling pushy. At the same time, you are increasing brand awareness – which is a plus point.
Content Marketing (Blog)
Content marketing via blogging is an effective way of educating your target audience. It works by providing them with the knowledge they need in order to make informed purchasing decisions. It includes step-by-step guidelines, tutorials and reviews. Content marketing is a pull strategy that focuses on driving traffic from marketing channels and then drives sales. Good content is informative and helps customers to move along the conversion funnel more easily.
Are You Ready to Drive Traffic with Push and Pull Strategy in Marketing?
Every business that is revolved around the digital marketplace must have effective push and pull marketing strategies to drive traffic and increase conversion rate. It is crucial to induce consumer demand and needs via push marketing and offer users ways to satisfy those needs with pull marketing.
Are you ready to increase traffic and skyrocket your sales? Contact us at Cleverus or drop us an email at [email protected] for more information.
Recommended Posts
January 17, 2023
January 10, 2023